Teaching Kids to Save
Learning concepts about money - how to earn it, save it, and spend it wisely - are important lessons for children of all ages. You can start their financial education early with entertaining children's books that cover everything from the basics of counting coins to budgeting, saving, investing, and donating. 
We asked librarians in our branch communities to recommend books available on their shelves for families who want to inspire healthy money habits at any age. 
11 Books That Teach Kids to Save Money
Visit a library or stop by a bookstore near you for books that will start teaching your kids good money and savings habits. We visited with a couple of libraries in the River Valley and Northwest Arkansas for some good books that help kids save. 
Alma Public Library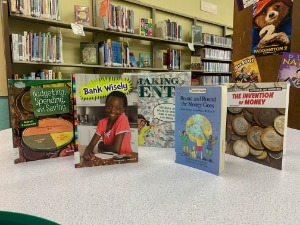 Children's Programmer Allison Harrison highly recommends the book "Bank Wisely" by Heather E. Schwartz. "It is an excellent introduction into how banking and saving works, and it provides a very easy-to-understand glossary of banking terms." 
Other books about money at the Alma Public Library: 
"Budgeting, Spending and Saving" by Bitsy Kemper helps readers learn how to save, to spend and to build their own budget. 
"Making Cents" by Elizabeth Keeler Robinson is a kid-friendly introduction to U.S. currency, describing math equivalencies and giving insight in to buying power. 
"Round and Round the Money Goes" by Melvin & Gilda Berger explains the development of money from its origins in the barter system to its modern usage as cash, checks and credit cards. 
"The Invention of Money" by Nicolas Brasch explores the beginning of currency with the early coins and precious objects all the way to the banknotes and fraud-detecting devices of the twenty-first century. 
The
Alma Public Library
is open to the public at 624 Fayetteville Ave., with events being held in person and on Facebook Live. 
Huntsville Library
Staci Evans, the director of the Madison County Library in Huntsville, gave us a great list of books to check out during your next visit. 
"Save It" by Cinders McLeod is a great book to teach young kids about money management and the importance of saving.  This book is available in audiobook format at the Huntsville Library. 
"A Chair for My Mother" by Vera B. Williams is a book about a family saving money to replace furniture lost in a house fire. This story tells of a family all working hard to save for something they all can use and enjoy - something most of us take for granted.
"Tia Isa Wants a Car" by Meg Medina is a story of a family saving part of their money to send to other members of their family that don't live where they do, and saving the other part for a car that can take them to the beach. It's a sweet story because the niece surprises the aunt by saving some of her own money to pitch in towards the car.
"Money Ninja" by Mary Nihn is a fun book that teaches several money related concepts: saving, investing and donating.
"Larry the Bunny Saves His Money" by Jim DeGaetano Jr. is a cute story that covers basic math, the principles of money, the importance of saving, and the value of integrity. 
"Rock, Brock, and the Savings Shock" by Sheila Bair is a fun rhyming book that really teaches kids about the importance and reward of saving money.