Deposit checks with your smartphone or mobile device from virtually anywhere, at anytime. Mobile Deposit is quick, easy, and convenient.
ENDORSEMENTS
Proper restrictive endorsement is required and includes the following:
Print "For Mobile Deposit Only." Do not use abbreviation, cursive, or all caps. (Only checking the box for mobile deposit is not a proper restrictive endorsement for mobile deposit.)
Today's Bank Account Number
Endorsement: Signature or Business Name (for business accounts)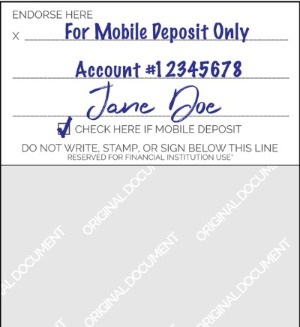 CUTOFF TIME
Mobile Deposits confirmed as received Monday -­ Friday before 5 pm Central Time on a business day that Today's Bank is open will be processed to your account the same day. However, all checks will also be subject to Today's Bank's Funds Availability Policy and/or delayed funds availability as permitted by regulatory guidelines.

Message and data rates may apply. Daily and multi-day deposit dollar and count limits may vary and are subject to change at the discretion of Today's Bank.