Deposit checks with your smartphone or mobile device from virtually anywhere, at anytime. Mobile Deposit is quick, easy, and convenient.
ENDORSEMENTS
Proper restrictive endorsement is required and includes the following:
Print "For Mobile Deposit Only." Do not use abbreviation, cursive, or all caps.
Today's Bank Account Number
Endorsement: Signature or Business Name (for business accounts)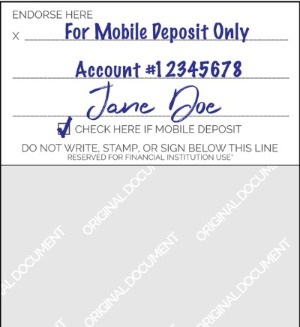 CUTOFF TIME
Mobile Deposits confirmed as received Monday -­ Friday before 4 pm Central Time on a business day that Today's Bank is open will be processed to your account the same day. However, all checks will also be subject to Today's Bank's Funds Availability Policy and/or delayed funds availability as permitted by regulatory guidelines.

CAMERA REQUIREMENTS
A mobile device with a rear-facing camera is required to deposit checks with the mobile remote deposit capture functionality in the Mobile App. It requires camera resolution greater than 1.9 megapixels for minimal compatibility. It also recommends a camera resolution of 5.0 megapixels and greater for the ideal experience.
Please click
here
for our terms and conditions. 
Message and data rates may apply. Daily and multi-day deposit dollar and count limits may vary and are subject to change at the discretion of Today's Bank.